Images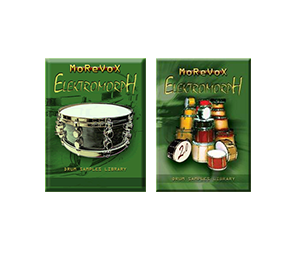 Title
Elektromorph 1 and 2 Bundle
Body
Elektromorph I
MoReVoX Elektromorph I is a massive electronically morphed drum sample library in Drumagog's native Gog format. More than 800 24bit samples ready to quickly regenerate your drum tracks. From Pop to Hard Rock, Hip-Hop to Extreme Electronic Music, MoReVoX Elektromorph I can help you breathe new life into your drum tracks. Elektromorph I is not only a massive replacement sample tank but a kaleidoscopic resource for your creativity!
MoReVoX Elektromorph I contains:
> 32 Kicks
> 44 Snares
> 14 Tom Sets
> 94 Cymbals
> several other multilayer percussion and effects
Audio Demos
Elektromorph II
Elektromorph II by MoReVox is a powerful tool which will take your drum tracks on an unexpected and creative sound adventure. Divided into Massive Path Sounds and Creative Path Sounds, MoReVoX Elektromorph 2 has been recorded with unique top quality signal paths to create individual sound coloring, then hyper-edited in both analog and digital domains.

Elektromoph II gives you several ways to create amazing drums tracks : deep and punchy digital sounds, warm and dirty-valve analog sounds, dry impact drums, explosive roomy wide hits, massive pure natural sounds, classic MoReVoX creative sounds, and more, for a total of 820 brand new samples and 118 Instruments (24bit).

MoReVoX Elektromorph II contains:
> 30 Kicks
> 40 Snares
> 6 Toms Racks
> 6 Sidesticks
> 36 Cymbals
All of MoReVoX Elektromorph II's samples have been created with their own defined character (they can be dropped right into your project, no dynamic or EQ processing needed), and at the same time are really moldable. This makes Elektromoph 2 a top choice for pros.
Audio Demos