Images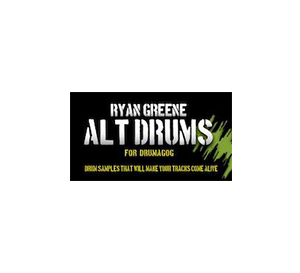 Title
Ryan Greene's Alt Drums
Body
Ryan Greene's Alt Drums for Drumagog
What do Megadeth, NOFX, Strung Out, Jay-Z, Alice Cooper, Patti Labelle, Lagwagon, No Use for a Name, Guitar Hero, Tonic and so many more have in common –- They have all worked with award winning Producer, Engineer, and Mixer Ryan Greene. And now Ryan brings you ALT DRUMS -- The ultimate drum sample replacement library.
This library features high-quality samples recorded in multiple studio environments allowing you to select the perfect sound. Options like 'dry', 'with overhead', and 'with room' are all included. ALT DRUMS also provides multiple articulations like regular hits, rim shots, side sticks, snare flams, ghost hits, dry kick, kick with snare rattle, and much more. The attention to detail means you can create the proper sonic experience for your drum tracks.
ALT DRUMS was recorded with multiple drummers playing multiple kits. Hand picked Hard-Hitting drummers like Troy Luccketta from the band Tesla, Gary Sanchez, Randy Wright, John Covington, and Bruce Weitz were cut loose to do what they do best: Annihilate Drums.
ALT DRUMS was built to add punch and weight to your drum sounds. Unleash your creative genius with real drums played by professional drummers and recorded by award winning producer Ryan Greene.
Highlights include:
• Over 20,000 high quality samples @ 24bit 48kHz
• Drum kits ranging from vintage to modern
• 3 different stereo versions of all samples: 'Dry', 'With Overhead' and 'With Room'
• 34 different stereo snare drums
• Over 180 different kick drum variations
• 9 complete sets of rack and floor toms
• 9 complete sets of stereo crash cymbals- Hi hats with multiple articulations: open, closed, half and stomp.
• Ride cymbals with multiple articulations: bell and shaft.
• Compatible with Drumagog (version 4 or 5) for VST, RTAS or AU host including: Pro Tools, Logic, Digital Performer, Nuendo, Cubase, SONAR, and more!
• Mac and Windows Compatible
Audio Examples
Full Band Mixes
Drums with Band
Drums Only
All tracks produced, engineered, and mixed by Ryan Greene
Free GOG Demo Kit
• Kick - 22" Gretsch
• Snare - 14" Pork Pie Metal
• Hats - 14" Zildjian Quickbeat
• Rack - 13" Pork Pie
• Floor - 16" Pork Pie
• Crash L - 18" Zildjian Projection
• Crash R - 19" Zildjian Projection
• Ride - 20" Paiste Dry Heavy
Each of the above .gog files are from the 'With Overheads' group.