Images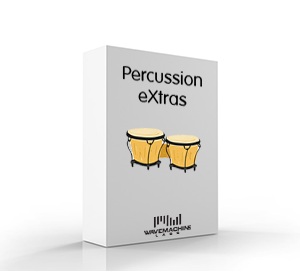 Body
Percussion eXtras by WaveMachine Labs is a GOG-formatted collection of percussion instruments from around the world. Use them as stand-alone replacement sounds, or mix them with your existing drums for unique sonic combinations. From delicate triangles to the thunderous low-end of an 18' Djembe, Percussion eXtras offers new artistic flavors to the Drumagog user.
Quick Facts
44 total GOG files

78 different Positional Groups

1600 individual samples
Instruments include:
Agogo Bells with wood and metal beaters
Bendir
Bodhran
Bongos with hands, mallets, and sticks
Brake Disk
Clave
Congas
Cowbells
Djembes
Darbuka
Doumbek
Jam Blocks
Shakers
Sleigh Bells
Tambourines
Tar
Timbales
Triangle
Tube Cajons
Wood Block
This collection was produced by WaveMachine Labs, Inc and John Emrich. All sounds performed, recorded, and edited by John Emrich. Recorded with API and ATI preamps, using microphones from Violet, Nevaton, Sennheiser, and Telefunken.